~ Payout will be done in tranches "installments" ~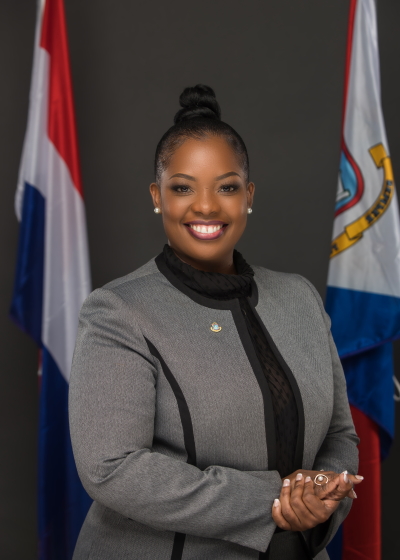 PHILIPSBURG: ---Minister of Justice Anna Richardson said on Wednesday at the Council of Ministers press briefing that justice workers were told during the town hall meeting held on January 12th, 2023 that by the end of the first quarter payments should be made to them. She said while not wanting to put a date as to when the process will be finalized and when actual payments would be made to them, they were told that by the end of the first quarter of 2023, the process of regulating their functions and salary adjustments will be made.
Richardson said that she is still at loss with the reaction given by the unions representing justice workers on Tuesday while they were at the end of February and not March 2023. She said she has received phone calls from officers that indicated that they are ready to resign from their unions because they are being misled. The Minister said some officers are grateful since the process is almost at the finish line. Richardson said the calculation that was requested by the governor will soon be completed since the governor could not sign off on the national decree without having the calculations that would show what it would cost the government to regulate the salary scales for justice workers.
Asked by SMN News if any form of calculations were done to determine the exact costs. The Minister said that the calculations were never done in its' entirety, meaning deductions of monies given to justice workers were not done. Richardson also hinted at the tranche that was paid out a few years ago without any form of deductions. Based on those facts the Minister said it would be premature to indicate what the costs would be. Richardson also indicated that some 2.3 million guilders were budgeted in 2022 while more money was budgeted in 2023 for the back pay. She made clear that government does not have all the funds required to make a one-time payout, as such these payments would have to be made in tranches (installments).
The Justice Minister also said that the government of St. Maarten is looking for ways to see how they can collect more revenue in order to make these payments. "Unless we are able to earn and grow our coffers we would not be able to payout the backpay owed to justice workers."
CCSU has always given green light to move forward with historic information as they strive to finalize the process. Justice workers were also asked to share any type of documentation they may have since the Ministry is not fully up to par.