~1400 volunteers completed 91 community projects during the two-day event~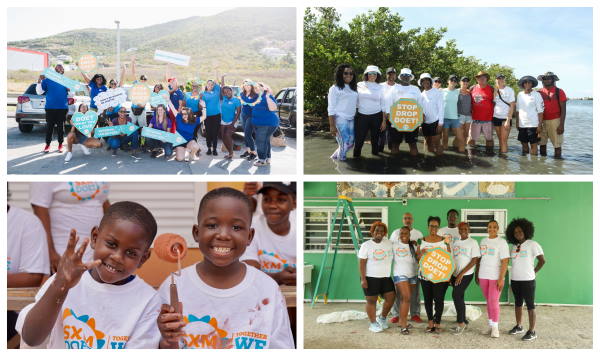 PHILIPSBURG--- The SXM DOET Project Coordination team is proud to announce that this year's event was a huge success, as an estimated 1400 volunteers completed 91 community enrichment projects over the weekend.
About 1400 volunteers displayed love and gratitude for their communities by making a positive difference throughout various communities and neighborhoods. A combined total of 91 projects were organized and executed: 40 projects on Friday, March 10th, and 51 projects Saturday, March 11th.
This year, the project coordination team introduced a new spin to doet-ing while being sustainable with a DIY T-shirt decoration competition. The shirt competition brought out the creativity and skills of persons within the community while allowing for the DOET team to minimize the number of printed shirts and promote the sustainability of reusing clothing.
The types of projects varied widely, with lots of social and interactive projects with the elderly, vulnerable youth, and differently-abled, painting of murals and beautification projects of schools, building and daycares, gardening and agricultural projects, upkeep of play spaces and sporting facilities, and building of benches, chicken coups, and gazebos.
SXM DOET is part of a Kingdom-wide initiative, with over 400.000 volunteers in the Netherlands, Curacao, Aruba, Bonaire, St. Eustatius, and Saba all giving back to their communities for two important days of the year.
St. Maarten witnessed volunteers from all sectors, both private and public including, various ministers, parliamentarians, government departments and cabinets, in different parts of the community in collaboration with our local NGOs that work so tirelessly for the island. Prime Minister Silveria Jacobs, an advocate for volunteerism, and her cabinet support staff took part by painting the walls at Milton Peters College. Several Members of Parliament and Ministers were spotted lending a hand at projects and neighborhoods dear to them. There were also many government departments and various businesses that took the opportunity to volunteer for SXM DOET as a teambuilding event whilst giving back.
The SXM DOET project coordination team would like to extend a heartfelt thank you to all the businesses and organizations that reached out and partnered with the team to provide discounts to all participating organizations, and those who aided by adopting various projects for the two-day event. We would also like to highlight our long-standing partners who continue to go over and beyond to assist our team in every aspect. To Kooyman, Sherwin Williams, FLOW, Divico, Heavenly Water, Cake House, Domino's Pizza, Tackling Law in collaboration with Tackling Gas Station, T-Shirt Maxx, Livvit, Firgos, Dijtham, Greenfingers, Sweet St. Martin, Philipsburg Broadcasting, the Voice of St. Maarten, St. Maarten Carnival Development Foundation, The Morgan Resort & Spa, Blue Etoile, Buccaneer Beach Bar, SandBar, Driven Media, L. Duzanson Photography, Our Story Alex, Gelateria Milano, Classic Electronics, Ofara Arts, and Renttasound; a heartfelt thank you!
This year, there was a record-breaking number of committed "volunteer coaches" who assisted various organizations in the DOET process in the weeks leading up to the event and on the days of the event.

Be The Change Foundation, the executor and organizer of SXM DOET would also like to thank the Oranje Fonds for entrusting us to host this project for the past nine years in Sint Maarten and for funding the effort locally and throughout the rest of the Dutch Kingdom. This year, just over USD $48,000 was disbursed to local NGOs to make their projects come to fruition.

"Thank you to the collaboration of funding agencies, government departments, businesses, organizations, and especially our volunteers - a huge impact was felt on Sint Maarten!" said the SXM DOET Coordination Team.

For more information on SXM DOET or to learn how to contribute in any way, please contact: the SXM DOET Coordination Team, Melanie Choisy, Fleur Hermanides, Laura Bijnsdorp, Caroline van Oost, Shanica Romney, Breanna Barrie or Roylyka Roache at This email address is being protected from spambots. You need JavaScript enabled to view it. or visit www.sxmdoet.com / www.facebook.com/SXMDOET.