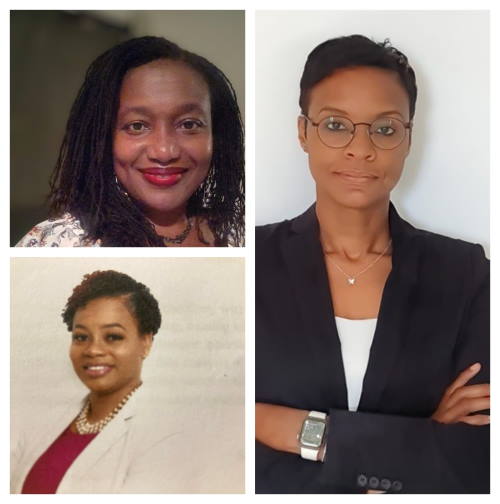 PHILIPSBURG:--- Peridot Foundation President Gracita R Arrindell said: "International Women's Day March 8th event hosted on Tuesday, March 7th was celebrated together with a very appreciative audience. Persons in attendance included former Ombudsman Dr. Nilda Arduin, Honorable MP Sarah Wescot-Williams, Dr. Luc Mercelina and his wife Dr. Patricia Roumans".

"Our board presented a program that started with a Prayer and an amazing rendition of the Sint Maarten anthem by Benjamin Bell.
The first presentation on the theme DigitALL: Innovation and Technology for Gender Equality by speaker Cathy Vollmer was very enlightening and thought-provoking. Having worked in the field of Innovation and technology for several decades, Mrs. Vollmer Manager of Information Technology Services, the Medical Sciences Campus at the American University of the Caribbean School of Medicine in Sint Maarten. Ms.Vollmer's very interesting address will be shared in a subsequent release".
Arrindell states: "The second presentation by Director of Resources for Community Resilience & NPower Foundation Jose Verschueren- Sommers, literally moved the audience on their feet in a participative presentation themed "This or That" in a playful way testing the innovative knowledge of the past, present and future much to the delight of the audience.
"Both speakers shared their respective wealth of work experiences that included their personal journey that led them to their current profession."
Gracita continues and said: " Special highlight and concluding this year's celebration of International Women's Day 2023 was the recognition of three young women working in the field of Innovation and Technology. Our honorees hail from different backgrounds. They dared to be bold in their aspirations, in their hearts, and in their minds. We celebrate their achievements. With this recognition, we aim to encourage the honorees and other young women to continue on their individual paths chosen. No matter the obstacles. Most people see where u are, but most don't know the hard work of studies and perseverance, your commitment to succeed no matter the obstacles. We are pleased to recognize the path you have chosen. We are honored to recognize and celebrate your achievements": stated the President of the Peridot Foundation".
"The Honorees :
Dr. Rolinda Carter; born in St Martin, holds an Associate of Arts in General Liberal Arts from the University of St.Martin, Bachelor of Science in Biochemistry and Molecular Biology with a specialization in Health Sciences from Trent University in Canada. She also holds a Doctorate in Pathology and Laboratory Medicine. Dr. Carter currently serves as Quality Manager of Health Care Laboratory Sint Maarten, receiving her certification in Quality Management from the University of British Colombia, Canada. Rolinda is also a blood research scientist. As a former Dean of Academics at the University of St.Martin and current President of the Sint Maarten Science Fair Foundation, Dr. Carter is a strong advocate of the notion that education and innovation are not only necessary but must be mandatory for a Country to achieve maximum growth".
"Dr. Cherina Fleming; born in St.Martin, received her high school diploma at Milton Peters College. She obtained her Bachelors's degree in Applied Sciences including completing her internship at the department of Clinical Chemistry at the Erasmus University Medical Center. Dr. Fleming's pursuit to excel as a Clinical Chemist included her title as a research technician on automated cell counters manufactured by Sysmex Corporation for counting cells in body fluids. Cherina received her Master's degree in Biomedical Sciences at the University of Utrecht. Dr. Fleming's PhD research work- and training were obtained at the department of Clinical Chemistry at the Erasmus Medical Center and at the Groene Hart hospital. Dr.Cherina Fleming is the Director of St. Maarten Laboratory Services. (SLS) since 2019."
"Neomie Plaisimond; born in Sint Maarten, is currently the Network/ System Administrator at the Social & Healthcare Insurances ( SZV).
Ms. Plaisimond is a System Administrator with over twenty years of experience in this field. Neomie credits her older brother, currently a programmer at a hospital in the United States as well as her high school teacher at the Sint Maarten Academy Mr. Wellington Archibald as being a great source of influence in her choice to further and complete her studies in Computer Science at the University of Alabama, Birmingham USA. Ms. Plaisimond's work experience includes working for Verizon, Government of Sint Maarten. She is a Microsoft Certified Systems Engineer and holds a Masters's degree in Health Information Systems. Neomie's future looks promising as she looks forward to be a Certified Information Systems Security Professional".
Peridot Foundation President concludes and states: "The program concluded with beautiful presentations by students of Charlotte Brookson Academy of the Performance Arts supported by their enthusiastic Director and faculty members. Several members of the audience were treated with special gift prizes to which our gratitude goes out to this year's sponsors: OysterBayBeach Resort, Market Garden, Izi restaurant, Spa Impulse at Port de Plaisance, Good cards, and management of LosSanFernando events center.
We are grateful to our keynote speakers, our honorees, and attendees for celebrating International Women's Day 2023 in this beautiful way.
Continue to uplift and inspire young girls and women to excel and live their dreams, especially in the field of Innovation and Technology thereby advancing DigitAll for gender equality"