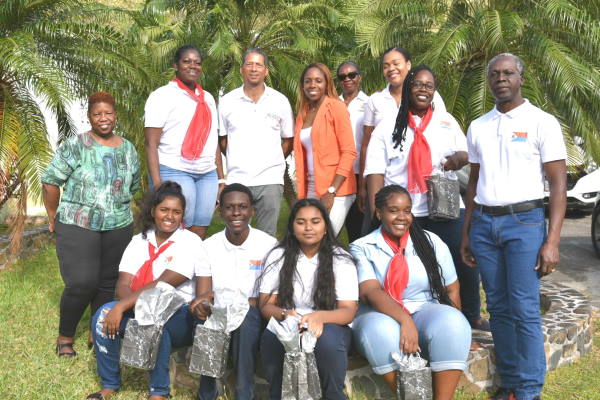 PHILIPSBURG:--- The Mental Health Foundation (MHF) hosted the St. Maarten Debate Team Champions on Friday, March 18th at their administrative headquarters to honor their achievement at the 51st annual Leeward Islands Debate Competition (LIDC) during a gratitude ceremony. The competition, which was held in Antigua, closed with the topic of, "The Caribbean failure to take mental health illness seriously has caused irreparable damage to families and communities," which lead the SXM team to their victory against their St. Kitts opponents.
During the ceremony, MHF staff and the debate team as well as their mentors were able to get acquainted over snacks and drinks while discussing their journey to victory. MHF Staff, Dr. Tameka Lambert, Clinical Psychologist, and Danette Mc. Rae, Occupational Therapist, was vital in assisting the team with the information necessary to prepare for the debate. This opportunity also allowed the debaters to share the current status of mental health in St. Maarten, efficacy in building awareness, early interventions, and strategies to address the mental health concerns within our community. As such, the achievement means a lot to MHF and serves as the beginning of a promising collaboration in the fight against stigmatization.
MHF gifted all the debaters small gift bags to close the ceremony, which took place in the presence of H.R.E.A . Foundation; members of the LIDC society, and chaperons of the annual SXM debate team.
MHF hereby congratulates the team in their commendable achievements and extends their gratitude to the team and their support network in bringing home this victory.