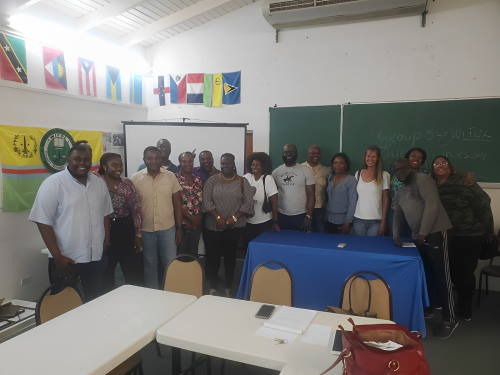 PHILIPSBURG:--- A new craft & farmers market will soon be opening its doors to the people of Sint Maarten, offering fresh, healthy, and locally grown produce to the community. The launch of the farmers market will take place at the Wifold Building in Phillipsburg on Saturday, May 6th, 2023, this pilot program will run for a probationary period of three months every other Saturday to gauge community feedback.

With the launch of this farmers market, the community will benefit from increased access to fresh, locally grown produce, while strengthening the community. The market will provide an opportunity for farmers and crafters to sell their products directly to consumers, promoting local economic growth and reducing our dependence on imported produce.

Fabio Doralice, President of Le Sommet Foundation, believes in the immense health, social, and economic benefits that come with supporting agriculture and its further development within our community. Not only does he see the launch of the farmers market as an important catalyst for promoting and supporting local farmers, but also as a way to help offset the high cost of living associated with buying groceries in Sint Maarten. In addition to bringing down the cost of food, the farmer's market also has health benefits.

"Eating healthy and organic is extremely expensive, but with locally sourced produce, we can eliminate shipping costs, packaging costs, overhead costs, and all other factors that play a role in the final price we pay in the supermarket. This means that people can have access to fresh, healthy, and locally grown produce at more affordable prices, promoting better health and well-being in our community and saving a dollar or two in the process.

At the heart of this initiative, the ultimate beneficiaries should be the community and its people. By investing in local agriculture, it will ensure that the benefits of initiatives like these are sustainable and we are actively contributing towards building a stronger, more resilient community for years to come."

Mr. Doralice further believes that the farmer's market will have a significant impact on promoting food security and reducing our carbon footprint. "It can even create new job opportunities or side hustles for home and backyard farmers, helping to supplement their income and stimulate economic growth in the community. The additional income could also be viewed as a way to help alleviate and slightly shift individuals above the threshold of poverty by putting additional monies in people's pockets and reducing their food costs, which will reduce their overall household expenses. This initiative is not a cure for all the issues we face with our economy, poverty, food, and food security, but it is a start and a step in the right direction. Too often all we hear is people talking about doing, now it's time that we stop talking and start doing it."

"We sat with local farmers and sought further insight, their participation was invaluable, and the meetings were extremely fruitful and enlightening. Everyone showed genuine interest and welcomed the opportunities it would provide for them. One farmer mentioned the establishment of a Farmer's Co-opt, which in itself is intriguing and warrants further exploration, but if done properly, would help to further empower local farmers and farming on the island." Our aim is not to compete with other farmer's markets but to complement local farmers and crafters by providing additional opportunities.

Farmers' markets are gathering places that foster a sense of community and can provide a platform for local organizations and businesses to promote themselves. It will provide an opportunity for residents and visitors to connect, share ideas, support the development of a strong, vibrant community, and learn more about the importance of supporting local agriculture.

This is an exciting development for Sint Maarten, the craft & farmers market will be launched under Le Sommet Foundation's community improvement initiative branch, geared towards community enhancement. By promoting and supporting local agriculture, we hope to create a sustainable future for Sint Maarten, while also providing economic opportunities for our local farmers.
To further support our local farmers and crafters, the farmers market will be free of charge to all produce vendors and crafters once they are registered. All farmers & crafters are invited to register to partake as a vendor for the duration of this pilot program. Interested farmers & crafters are invited to attend our final meeting scheduled to be held on April 20th at 6 pm at the Wifold building, Phillipsburg. We can contact us at 1721-5268232 or send us an email at This email address is being protected from spambots. You need JavaScript enabled to view it..

President of Le Sommet Foundation, Mr. Doralice thanks the Le Sommet Board & Team members, Wifold Building's management Mr. Theophilus Thompson and Ashma Berkel for supporting this initiative and is hopeful this will help more people get into farming, and looks forward to seeing the positive impact it will have on the community.