~ More time is needed to finalize calculations. ~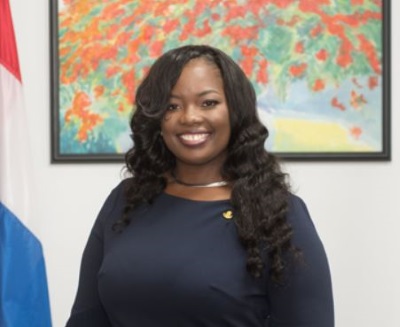 PHILIPSBURG: --- Justice workers will receive a 25% advance payment as early as today April 26th, 2023, Minister of Justice Anna Richardson announced at the weekly press briefing on Wednesday. The Minister said that the Council of Ministers met with the unions over the weekend to discuss and determine the particulars of the payments which are based on the Memorandum of Understanding signed in 2019.
Justice workers already received 50% advance payments based on the 2019 MOU, after receiving this 25% it will bring the total payment to 75% while the other 25% will go towards the payment of taxes and other dues owed to the government or USZV. The Minister made clear that all eligible justice workers were asked to sign an acknowledgment form, those that have already signed the forms, their names were submitted to the Ministry of Finance for the payments to be made.
After the 25% payment is made justice workers would have received 75% of their retroactive payments until the date of enactment of the new salary scales and function book, this follows the MOU of 2019.
Minister Richardson that the Council of Ministers stressed that the unions need to give the Ministry the necessary time to finalize the calculations which will then be sent to the Governor for his signature and finalizing of the laws. The Minister explained that over the past months, the civil servants in the Ministry of Justice have been constantly being distracted and as such it has prolonged the process. While no specific time frame was given or set the Minister and Prime Minister Silveria Jacobs said that the process should not take much longer but the necessary time is needed to properly make the calculations.
Richardson said that because of the payment that is now being made the overall focus on the calculations shifted thus the unions have agreed to give the Ministry the requested time to refocus on the calculations so that the justice workers are properly and fairly compensated.
Asked if retirees will be included in the payment planned for today the Minister explained that some retirees will receive the 25% while the Ministry is also busy making corrections to pay justice personnel who also did not receive the first 50%. Richardson also said that another batch of justice workers will be paid after the batch that is being paid today, Wednesday, April 26th.
The minister said that some justice workers have been asking for clarification on the calculations that were done in 2019, information her ministry does not have at hand, however, she has requested the information from the persons that made the calculations in 2019. She warned that while there is a push for the payments to be made, she said that the payments and calculations have to be done accurately because each individual is asking for their information and calculations. The Minister reiterated that regulating the salary scales and payments needs team effort which she believed is lacking.