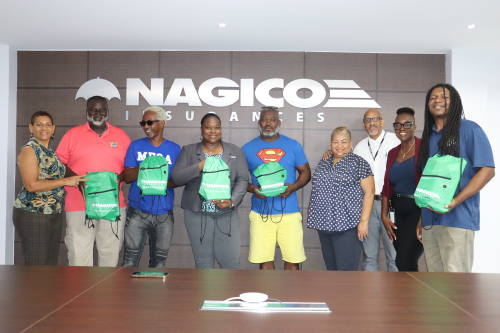 PHILIPSBURG:--- The winning trio of the recently held NAGICO Senior Calypso Competition paid a courtesy visit to the Head Office of NAGICO Insurances on Monday, to collect their prizes and to personally thank the Headline Sponsors for supporting the art of Calypso for over 30 years.
Eric Ellis, Territory Head applauded the Calypsonians for putting on an entertaining and successful show. "I think all the Calypsonians did a wonderful job this year. The songs, the performances, they were all very entertaining, and creative. It truly is proof that our local Calypsonians are honing their craft and vested in continuously improving the Calypso art form, and we must recognize and applaud them for this."
The prize monies were also paid to the Calypsonians, and they were also presented with small tokens of appreciation. Accompanying the singers were the President of the SCDF; Edwardo Radjouki and former President; Alston Lourens. They too were applauded for executing a successful Carnival. Representing the Mighty Dow; who is the newly crowned Calypso King, was his wife Ruth York, second place winner; Fish Da Mega Boss, and Third place winner; the Mighty Fox.