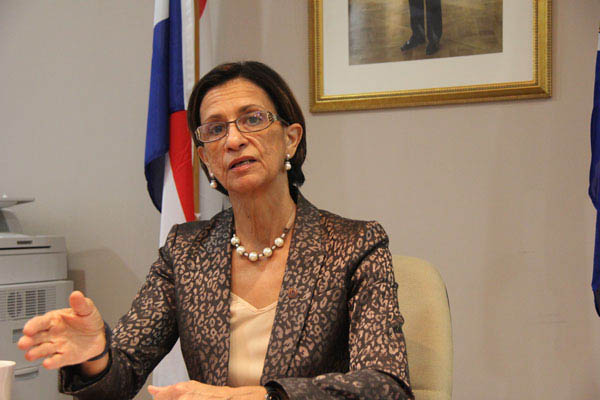 PHILIPSBURG:--- The latest statement from the Minister of TEATT regarding the law banning the use of single-use plastic bags, plastic straws, and styrofoam containers raises more questions than it provides answers. This is the opinion of the initiator of the law, MP Sarah Wescot-Williams.
I have over and over been asking about the enforcement of this law. Since then we've seen our neighboring islands making strides in the fight against plastic and finding practical ways to at least make a start!
Several members of the media locally have also been keeping their finger on the pulse and from time to time would question the government regarding the ratification of the law banning the items mentioned.
The trajectory of this law is a peculiar one, with a unanimous passage by parliament with an effective date, and then the authorization to the government to decide on the date of enforcement, after the date established by parliament was not met by the government.
Many have been discussions with the relevant ministers regarding the enforcement of this law, such as with the minister of Justice on the necessary manpower for control, with the prime minister regarding the awareness campaign, which is part of another project, and so on.
Several weeks ago, according to the Prime Minister, she would've been updated by her colleague TEATT minister on the status of the ratification and enforcement of the law.
"Lo and behold, not long after that, the TEATT minister announced a ban on these bags at the import points. Was this not discussed in the COM?
A ban on the items listed above at import is not covered in the present law and thus I ask how and when will the "ban at the borders" go into effect."
There is something to be said for such an approach eventually, but I hope this is not another stalling tactic, MP Wescot further stated.
"Ministers randomly throw things out and assume that they should be accepted and swallowed without any questions."
In particular this matter of a ban on plastic and other harmful materials, how long will it take us to get it right?
So again, I am questioning the relevant ministers and I have done so formally with the following questions to the Minister of TEATT:
1. Has the latest change to the Police Ordinance, giving the Government the authority to establish the date of enforcement of the ban, been published? If so, when? If not, why not?
2. Has this date been decided upon? When will it be?
3. How does the Ministry envisage the banning of single-use plastic bags at Ports of entry (import) as announced? What legal mechanisms will be employed to achieve such?
4. Will the ban on the import! of plastic bags delay the effective date of the ban as passed by Parliament, finally please provide a timeline and the steps to be taken for "full implementation" by the date of August 1, 2023, as announced.