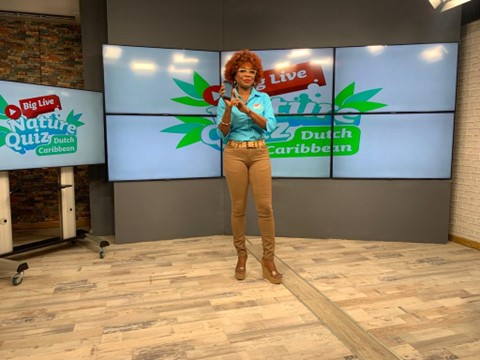 On May 13th, 2023, the Dutch Caribbean Nature Alliance (DCNA) hosted its Big Live Nature Quiz for residents of Aruba, Bonaire, Curaçao, Saba, St. Eustatius, and St. Maarten. A total of 164 individuals in teams consisting of 1-4 persons participated in the online, live, and interactive quiz. After many exciting and thrilling nature question rounds, a team on Saba won a sailing trip.
The Big Live Nature Quiz is a yearly event, created to educate citizens about nature (conservation) in a fun interactive way, to instill pride in Dutch Caribbean nature, encourage eco-friendly practices, support nature conservation projects, and to connect people throughout the Dutch Caribbean. The quiz is a true multi-island team effort: created and supported by the six Dutch Caribbean islands including the protected area management organizations (Fundacion Parke Nacional Aruba, CARMABI Curaçao, Saba Conservation Foundation (SCF), Nature Foundation St. Maarten, St. Eustatius National Parks (STENAPA), (local) sponsors and Dutch Caribbean TV.
Live and Interactive Quiz
Some teams played online from home whilst others went to a designated bar or restaurant where the quiz was broadcasted. Broadcast locations included Aruba: Battata Beach Bar, Bonaire: Hillside Bar & Restaurant, Curaçao: Grand Cafe Mahaai Saba: Chez Bubba Bistro, Sint Eustatius: Ocean View Terrace, St. Maarten: Dinghy Dock Sailors Bar.
The Quiz was online and live. Therefore, all teams from the Dutch Caribbean islands could participate at the same time as well as interact with each other and the host of the program.
Theme: Endangered animals and plants
The quiz had a total of 24 multiple-choice trivia questions. The quiz was in English, but the questions also had Dutch, Papiamentu, and Papiamento subtitles. Questions included species such as sea turtles, sharks, and iguanas.
Winners
First place went to team "Not Even Once" on Saba. They will receive a sailing trip around their beautiful island. Second place went to "Cuddlefishes" on Bonaire and third place to "humuhumunukunukuapua" on Bonaire. Island winner of Aruba is team "Walishali", team "Beaujon ta on" on Curaçao, team "I pampani" on St Maarten and team "Bacon and Beans" on St. Eustatius. They will receive other local prizes. A big congratulations to all.
"We had a lot of fun and learned much about nature. So cool to have all 6 Dutch Caribbean islands together in one quiz." Commented a Big Live Nature Quiz Participant from Bonaire.
Don't Miss the next Big Live Nature Quiz
Follow DCNA's Facebook (Dutch Caribbean Nature Alliance), Instagram (DCNAnature) or http://www.biglivenaturequiz.org/. For more information, email //This email address is being protected from spambots. You need JavaScript enabled to view it./">This email address is being protected from spambots. You need JavaScript enabled to view it..
Sponsors
The Big Live Nature Quiz is funded by the Ministry of Agriculture, Nature and Food Quality (LNV) and DCNA's activities are supported by the Dutch Postcode Lottery. Local prizes were donated by "de Buren Curaçao", "Concept Store by Sea & Sand-Curaçao, Oliva Restaurant Curaçao and "Restaurant Ginger Curaçao"and "Hillside Bonaire".