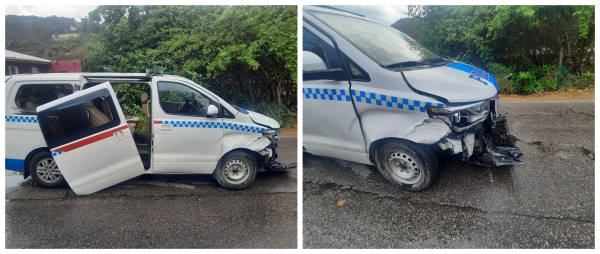 PHILIPSBURG:--- Detectives of the Special Unite Robberies together with the Traffic Department of KPSM are currently investigating an incident in which three police officers sustained minor injuries and a female officer was injured and subsequently transported to the Sint-Maarten Medical Center (SMMC) with the assistance of the ambulance Department. The injuries occurred during a pursuit of two scooters involved in a high-profile robbery at a jewelry store located on Front Street.
On Saturday afternoon, May 20, 2023, at approximately 1:00 p.m., the St. Maarten Police Central Dispatch received multiple reports of an ongoing robbery at a jewelry store on Front Street. Immediate action was taken, and several patrols were dispatched to the scene. Additional units remained stationed outside Philipsburg to monitor the alleged suspects.
It was determined that three individuals on two scooters had entered the jewelry store and, brandishing firearms, proceeded to vandalize the showcase and steal various pieces of jewelry.
Following the robbery, the suspects fled on their scooters towards Sucker-garden. While on Sucker-Garden Road, one of the patrols in the area spotted the suspects, initiating a pursuit that led to the Middle Region. During the pursuit, the pursuing patrol was compelled to perform an evasive maneuver, resulting in a collision with a vehicle traveling in the opposite direction. The two scooters, however, continued their escape toward Dutch Quarter. Upon reaching the French Quarter border, the second patrol sighted the suspects again, but they managed to cross the French border. The investigation into this incident is still ongoing.
The management team of KPSM expresses its concern for the injured officers and extends its full support to their recovery. The Sint-Maarten Police Force would also like to assure the community that every effort is being made to apprehend the individuals responsible for this brazen act. SUR detectives urge anyone with information about this robbery to contact KPSM at +1 721 5422222 ext. 204 or 205 or the anonymous tip line on 9300.
You can also leave a private message via the Facebook page: Police Force of Sint Maarten – Korps Politie Sint Maarten) if you know or suspect something.
KPSM Press Release