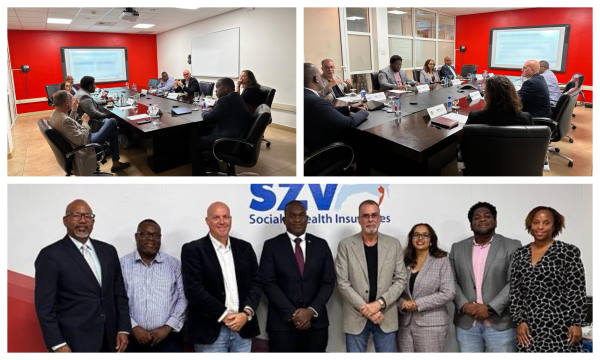 PHILIPSBURG:--- On Friday, May 12, 2023, SZV welcomed His Excellency Governor Ajamu Baly to their offices for an introduction to the organization. The Executive Team had the honor to present and dialogue on various topics that sparked many critical questions from the Governor. Present at the meeting were Mrs. Mieke Kalter - Director Cabinet Governor, SZV representatives Mr. Glen A. Carty – Director, Mrs. Parveen Boertje – Chief Transition Officer, Mr. Elton Felisie - Chief Financial Officer, Mr. Reginald Willemsberg - Chief Operations Officer. Ms. Charonne Holder - Manager of Corporate Communications and representing the Supervisory Council of SZV, Mr. Wayne Johnson - Chair of the Supervisory Council, and Mr. Perry Wilson – Council Member.
The presentation and dialogue topics included; a brief history of SZV, the current status of financial affairs – challenges & recommendations, pending legislative matters, highlights of SZV's Beyond 3.0 strategy, Transition Program and projections for digital public services, a preview of SZV's New Office Building plan, background information about SZV's relationship with local and international health care providers and the role of SZV as it pertains to the pending health care reforms.
In closing, the Governor expressed thanks for the time and information shared with him. The Executive Team and Supervisory Council members were pleased with the outcome of the meeting and look forward to the possibility of a future work visit of the Governor, possibly including a tour of the various departments, updated on the execution of the Beyond 3.0 strategy and the progress of the new office building.