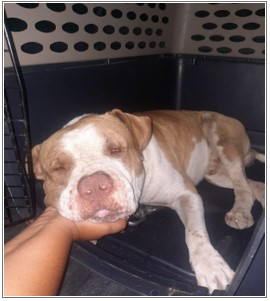 PHILIPSBURG;--- The St. Maarten Police Force would like to inform the public that the dangerous dog, previously reported as running loose in the Guana-Bay area, has been successfully apprehended. This action was taken in response to recent reports of the dog attempting to attack pedestrians in the Hope-Estate area.
On the evening of May 22, 2023, a collaborative effort involving a group of dedicated police personnel, alongside other non-governmental organizations, was undertaken to capture the brown and white Pitbull mix that posed a threat to public safety. After an extensive search in the vicinity of the Hope Estate, the operation concluded with the successful containment of the dog.
We would like to take this opportunity to remind the owner of this dog that it is crucial to come forward and contact the St. Maarten Police Department to address this matter promptly. It is the responsibility of the owner to ensure the proper control and management of their animals. Allowing a dangerous dog to roam freely can lead to the commission of a criminal offense.
The St. Maarten Police Department reiterates its commitment to the safety and well-being of our community. We urge the owner of the brown and white Pitbull mix to contact us as soon as possible to facilitate the resolution of this situation.
KPSM Press Release.