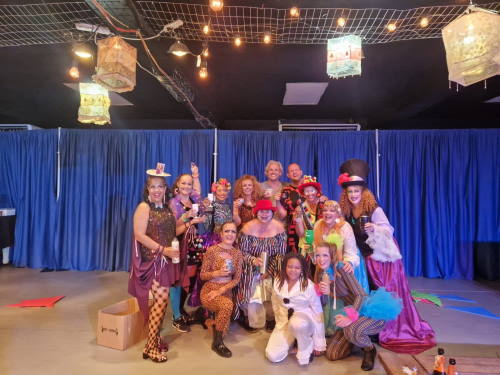 PHILIPSBURG:--- The TRIBUTE TROUPE, under the leadership of DJ Jansen de Jong and Joost de Jong Jansen, has once again wowed audiences with their incredible talent and dedication. Ten professional ladies worked tirelessly to create a show that left audiences in awe, and due to popular demand, they have decided to give another double performance on June 18th, 2023 at 4 pm and 7 pm in the BLACK BOX THEATRE @ NIA, John Larmonie Center.
The TRIBUTE TROUPE's latest show was so good that the audience simply didn't want to leave!
That's why they've decided to give another performance, so you can come and relax, burst out laughing, and maybe even shed a tear. You'll definitely leave happy, and best of all, it's free of charge. Donations are extremely appreciated, so please give generously.
On a very important note, please leave your goats at home. We want to ensure that everyone can enjoy the show without any distractions.
So mark your calendars and get ready for another unforgettable performance from the TRIBUTE TROUPE. Tadaaaaaaaaaaaa!
Make your reservations through WhatsApp messages only on 5807174.
For more information check our Facebook and Instagram: Tribute Troupe. Sent from my iPhone