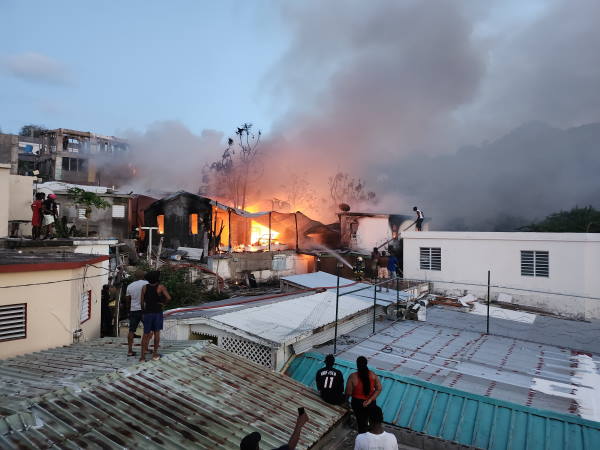 PHILIPSBURG:--- Personnel of the Sint-Maarten Police Force and Fire Department responded swiftly to multiple reports of a significant fire at the top of Madrid Road in the Dutch Quarter earlier this evening. The incident, which occurred on 0n May 28th 2023 at approximately 06:30 PM, destroyed about four neighboring homes. Efforts to combat the blaze are ongoing, with firefighting personnel still actively engaged at the scene past 08:00 PM.
Upon receiving several distress calls, the Police Central Dispatch promptly dispatched multiple police patrols and fire department units to the affected location. Firefighters arrived promptly and began tackling the flames, but the intensity of the fire made containment challenging.
Authorities are currently investigating the cause of the fire, and all necessary measures are being taken to ensure the safety of residents in the affected area. The police of Sint Maarten urge residents to remain vigilant and follow the instructions provided by emergency services personnel on the scene.
KPSM Press Release.