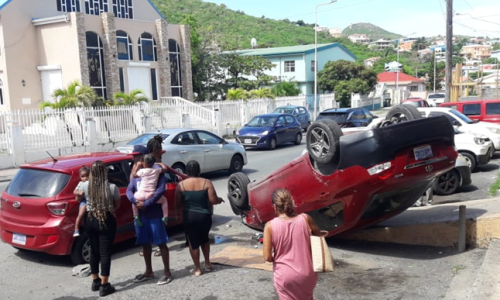 PHILIPSBURG:--- The Police Force of Sint Maarten (KPSM) has received multiple reports of an accident that occurred on Zagers Gut Road this morning at approximately 9:00 am.
Upon receiving the distress call at approximately 9:00 am, Central Dispatch promptly dispatched emergency services to the accident location. Presently, the KPSM has initiated an investigation into the incident to gather all relevant information and determine the sequence of events.
Preliminary information suggests that the driver of a red Toyota Corolla encountered a sudden medical emergency, resulting in a loss of control over the vehicle. As a consequence, the Toyota Corolla overturned, and the driver sustained minor injuries to the face. Immediate assistance was provided by the ambulance personnel, and the victim was swiftly transported to the Sint Maarten Medical Center for further medical evaluation and treatment.
The KPSM would like to stress the utmost importance of prioritizing safety for all drivers on the road. It is essential to remain vigilant, strictly adhere to traffic regulations, and promptly report any medical emergencies to the appropriate emergency services.
The KPSM will continue its investigation into the incident, and further updates will be provided as more information becomes available.
KPSM Press Release.