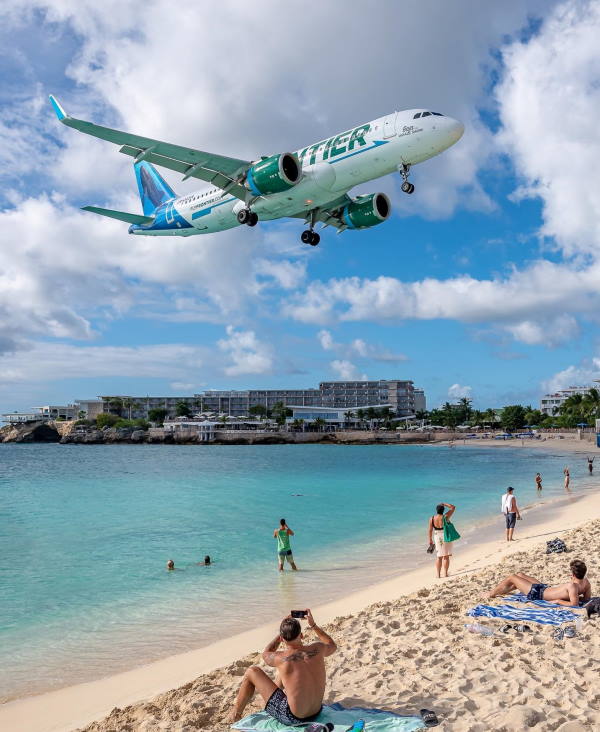 PHILIPSBURG:--- US Airline Frontier will return to St. Maarten with its non-stop service from MCO Orlando, Florida, starting Saturday, June 10.
The Minister of Tourism, Economic Affairs, Transportation & Telecommunication (TEATT), the Honourable Arthur Lambriex, announced Frontier's return on Sunday evening after what he describes as a series of high-level discussions between the Airline and his Ministry in recent weeks.
Frontier will offer one weekly flight on Saturday, departing St. Maarten at 1:43 pm and arriving in Orlando at 5:13 pm. The three hours and thirty minutes non-stop flight to the US is a welcomed addition that will boost summer travel from the US mainland.
Minister Lambriex said, "June 10, 2023, marks an exciting milestone as we welcome the restart of Frontier's flights from Orlando to St. Maarten. We are happy to have Frontier back in our skies, connecting two magical destinations and opening doors to travel possibilities. This renewed partnership signifies our commitment to providing exceptional air connectivity and showcasing the beauty and hospitality of St. Maarten."
Frontier promises to offer its signature "ultra-low fares" to travelers and is currently offering the GoWild! All-You-Can-Fly Fall & Winter Pass™ for a limited time at a special discounted price of US$299.Minister Lambriex said his Ministry and St. Maarten, in general, are pleased to extend "our warmest welcome to Frontier and express our gratitude to all involved in making this endeavor a reality. Together, we will create memorable travel experiences and reinforce St. Maarten's position as a premier Caribbean destination." He said, "Fly with Frontier, embrace the magic of St. Maarten, and let your journey begin" - Minister Lambriex.
Frontier Airlines (NASDAQ: ULCC) is committed to "Low Fares Done Right." Headquartered in Denver, Colorado, the company operates 125 A320 family aircraft and has the largest A320neo family fleet in the US. The use of these aircraft, Frontier's seating configuration, weight-saving tactics, and baggage process have all contributed to Frontier's continued ability to be the most fuel-efficient of all major U.S. carriers when measured by available seat miles (ASMs) per fuel gallon consumed. With more than 220 new Airbus planes on order, Frontier will continue to grow and deliver affordable travel across America.