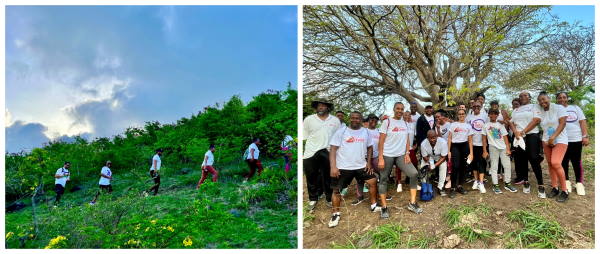 PHILIPSBURG:--- Under the moniker Ahead with Al, St. Maarten enthusiastically joined the CIBC FirstCaribbean regional initiative Move with Mark, a staff wellness effort spearheaded by Chief Executive Officer Mark St. Hill, challenging employees to get moving.

The CEO issued a call to leaders in each territory to head the local wellness effort with their teams and in St. Maarten, Head of Retail and Business Banking Alphons Gumbs rallied the team to kick off the "Ahead with Al" response.

Over twenty persons took part in an early morning hike on Saturday, June 3rd. Starting at the Causeway roundabout in Cole Bay, the group trekked for more than two hours, exploring the trails of Bellevue, and hiked their way over to the hilltop of Concordia. The hike is one of the latest additions to several healthy activities undertaken by the regional bank aimed at promoting health and wellness among staff.
The Move with Mark, initiative commenced at the start of this financial year, just after St. Hill took up the post as Chief Executive Officer. It has been picking up much traction across the bank's 13-country footprint.