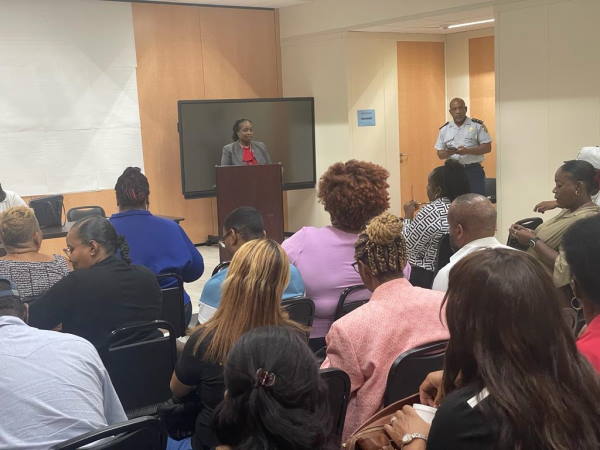 PHILIPSBURG:--- The Ministry of Justice, under the leadership of Minister Anna E. Richardson, marked a groundbreaking milestone in event planning efficiency with an insightful seminar aimed at enhancing the event permit application process. On August 3rd, 2023, Minister Richardson spearheaded a comprehensive session designed to foster transparency, regulatory compliance, and harmonious collaboration between event organizers and government authorities.
The seminar addressed a pressing concern within the event-organizing community, where events were frequently conceptualized and marketed prior to obtaining the necessary permits. This practice often led to complications and last-minute visa waiver requests, causing disruptions for both event attendees and government agencies.
Of particular significance was the discourse on event classification laws, notably those related to adult events. Minister Richardson emphasized the importance of parental discretion in determining the participation of underage individuals in such events, emphasizing the protection of minors.
The Ministry of Justice extended a warm invitation to all event organizers, encompassing those coordinating public parties, concerts, conferences, and sporting events, to partake in the seminar. The event aimed to equip organizers with essential insights into orchestrating successful events while upholding event laws and regulations.
Key topics highlighted during the seminar included:
Understanding Event Laws: Participants gained a comprehensive understanding of the diverse laws and regulations applicable to various event types, ensuring lawful execution.
Navigating Permit Procedures: The session provided clear guidance on obtaining necessary permits, simplifying the often-complex planning process.
Judicial Affairs highlighted the seminar's objective of imparting knowledge about event permit application processes and future event policies. The Ministry of Justice aims to simplify the application process through digital submission, obviating the need for multiple agency visits. The anticipated digital application system, set to launch on October 1, 2023, will require organizations/individuals to digitally submit an application form along with a safety and security plan.
Risk Management: Effective strategies for managing unforeseen situations and emergencies during events were comprehensively addressed.
Ensuring Safety and Security: Best practices were shared to ensure the well-being of attendees and participants, effectively mitigating potential risks and challenges.
The Police Department (KPSM) provided guidance on maintaining public order and safety, introducing a risk management methodology to assist organizers in devising safety and security plans. They presented an event holder checklist, encompassing road safety, crowd control, emergency response, and communication protocols.
Visa Waiver Requests: Guidelines were shared for obtaining visa waivers, with emphasis on their exclusivity for emergency or unforeseen circumstances such as funerals or medical matters.
The Immigration Department's visa sector provided insights into the visa process. The Ministry often receives requests from organizers/promoters seeking visa exemptions for artists and their guests. The process, taking 4-6 weeks, necessitates a stamped invitation letter, pay slips, a job letter, accommodation proof, and flight details. Promoters and organizers must also provide advertising materials and a bank letter to cover costs. Visa waivers are typically reserved for emergencies.
Environmental Considerations: During the informative session for stakeholders, the Ministry of VROMI, under the leadership of the Head of Infrastructure Management, Mr. Charlon Pompier, and with the support of his team, Mr. Johannes Schaminee and Ms. Lia Dania, delivered a comprehensive presentation on the crucial advisory process between KPSM/Justice and VROMI regarding events taking place on public domain.
VROMI plays a crucial role in providing advice on event requests related to public spaces such as parks, squares, roads, roadsides, and beaches. To ensure the events are in compliance with regulations, the Ministry carefully verifies the location and ownership using cadastral maps. Moreover, VROMI diligently examines potential clashes with already approved events to maintain a well-organized schedule.
Additionally, the Ministry of VROMI is actively involved in approving locations for billboards across the island. This measure is taken to prevent traffic safety issues caused by improper billboard placement and the unsightly cluttering of roadways, which can lead to the disfigurement of public spaces.
Traffic management is another significant aspect handled by the Ministry. Depending on the nature and size of the event, organizers are required to present a traffic-related plan. This plan encompasses requests for temporary road blockages and redirection to guarantee smooth traffic flow on public roads during the event.
During the presentation, stakeholders were also reminded of the importance of having signed agreements with portable toilet providers and cleaning companies for efficient waste management, including the collection of stray garbage and waste generated during the event.
Lastly, the presentation touched on the procedure for requesting barricades, outlining the necessary steps for ensuring safety and security during events.
Minister Richardson expressed gratitude to all stakeholders for their active participation and collaboration, emphasizing the collective effort in ensuring safe and seamless event execution. A second seminar is in the works, affording stakeholders an opportunity to review and discuss aspects of the draft Event Policy with the Government.
Minister Richardson hailed the seminar's success in augmenting understanding and cooperation between event organizers and government entities. She applauded participants' proactive engagement and urged ongoing adherence to event laws for the betterment of all stakeholders. The community is urged to anticipate the next seminar invitation for further discussions, policy finalization, and public release.
For inquiries and additional information about event planning and permit applications, interested parties are encouraged to contact the Ministry of Justice.