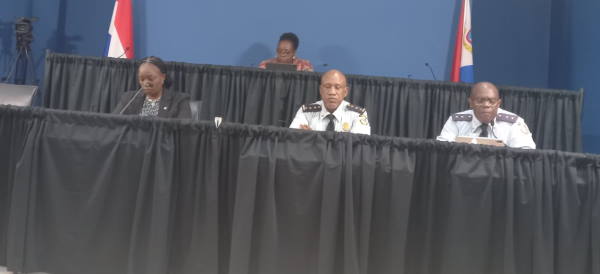 PHILIPSBURG: ---The victim "Michael Flanders" who accused police of Police brutality is yet to file an official complaint with the Internal Affairs of the Police Department of St. Maarten or the National Detectives so said the Chief of Police Carl John at a press conference called by the Minister of Justice Anna Richardson on Tuesday.
John did not divulge details of the ongoing investigation but stated that KPSM has been busy investigating the allegations and the missing element to proceed with the investigation is the complaint that must be filed by the alleged victim. John also said that the officers that responded to the scene are all on the job, he hinted that if there were evidence to show excessive force was used during the arrest then the officer, or officers, would have been suspended that same day.
The top cop said that KPSM takes allegations of police brutality very seriously and when he saw the photos in the first instance, he too thought that excessive force was used by the arresting officers. However, after conducting some preliminary investigations the top cop said that his perspective has changed because police received additional information that showed something completely different.
John said that the officers of KPSM and the Acting Prosecutor followed all procedures including offering the suspect/victim the opportunity to seek medical treatment which he refused.
SMN News was informed that the alleged victim was involved in an incident at a nightclub in Sucker Garden, and he was beaten at the club by a bouncer. It is said that the alleged victim attacked one of the exotic dancers at the nightclub and he was beaten by the bouncers since this is not the first time the victim had gotten into incidents at the particular nightclub.
SMN News also learned that when Flanders left the nightclub, he was heavily intoxicated, and he hit several vehicles before reaching his home in South Reward.
Asked why the victim "Flanders" was not arrested at the nightclub where the incident occurred, John said that there are reasons why the arrests took place at Flanders residence.