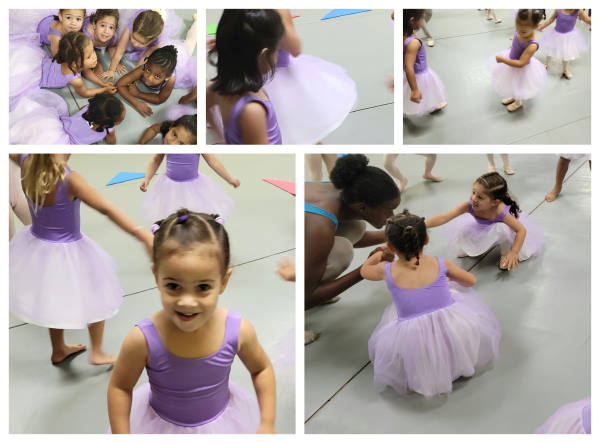 PHILIPSBURG:--- The National Institute of Arts (NIA) started the new school year on the 14th of August with the fourth annual collaboration between the Bronxville Ballet NOT FOR SALE, director Ana Dimas, and Arts Saves Lives' director Nicole de Weever.
NIA Director, Arlene Halley, is pleased to begin the 4th edition of the Princesses Program. The response is always overwhelming. The program is offered free of monthly costs for first-time dance students from 3 to 9 years old. They receive a Princess dance dress for their class uniform which Miss Ana Dimas personally ships to St. Maarten. The dresses are her design and manufactured according to her instructions. This school year Ms. Ana has donated 32 dresses to NIA, this year's participating "princesses" have already received their lilac-colored dresses which they joyfully sport every class.
In the last 3 years, NIA has introduced 70 first-time ballerinas, between the ages of 3 and 9 years old, to the joy of ballet class once a week. Ms. Arlene maintains that this initiative has cemented a student base for the school; and that NIA has been able to entice students as well as parents to continue with classes after the free introductory year. This philanthropic gesture is without doubt an investment in the Arts on St. Maarten for which we are so grateful. Through its continuity during these 4 years, it has secured a level-based structured program for the ballerinas.
The vision and motivation of Ms. Ana are best encapsulated as follows: The Bronxville Ballet NOT FOR SALE is Ana Dimas' nonprofit foundation that takes its name from the notion that the best things in life are indeed, NOT FOR SALE. The best things in life should be given away. In Ana's desire to give back to the community, she is collaborating with studios around the world offering the joy of Ballet to those in need or with special needs, the hope of Ana's program is to have the girls learn new skills, gain a positive self-image and have a chance to be a "princess".
Ms. Nicole de Weever is no stranger to our community! Every year she conducts a one-week summer program with her foundation Art Saves Lives free of charge on the island. She clearly remembers her 'Princess' days at the Motiance Dance School and thinks that every young child deserves a helping hand to the performing arts.
It is with heartfelt gratitude that NIA thanks the Bronx Ballet NOT FOR SALE and Art Saves Lives organizations for once again contributing to this wonderful initiative for our St. Maarten children and for promoting the Art and benefits of Ballet.
NIA encourages local benefactors to contribute to the cause, to invest in our own children. As of January, NIA absorbs the cost of running this one-year program, not in the business of disappointing our ballerina Ms. Arlene voluntarily continues with the classes until the end of the school year.