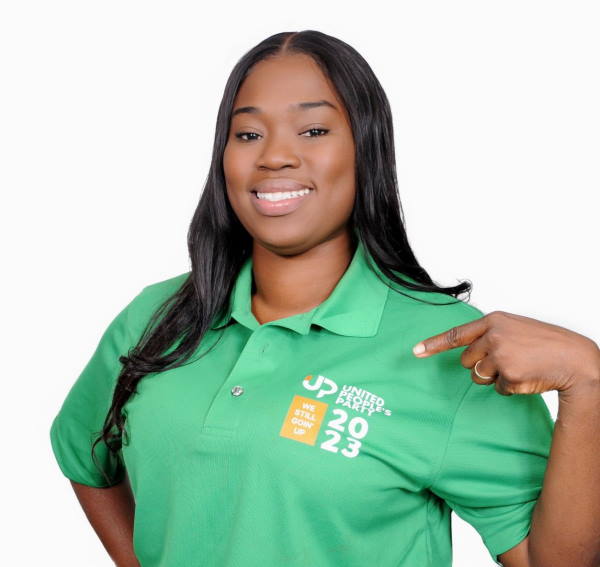 PHILIPSBURG:--- The political landscape in St. Maarten is buzzing with excitement as a fresh face enters the arena with a bold vision for the future. Juanly Abel-Ramirez, a dynamic and forward-thinking candidate, has officially announced her candidacy on the United People's Party (UP) slate, and she's bringing a message of proactivity, innovation, and change.
"I am pleased to announce my candidacy for the Parliamentary Election in 2024 with the United People's Party," said Abel-Ramirez on Tuesday.
With a passion for politics that ignited during her eye-opening experience working with a former politician in 2014, Abel-Ramirez knows the direct impact of political decisions on our communities. She firmly believes that the time for change is now and says her candidacy is driven by a commitment to shaping a better tomorrow for St. Maarten. Abel-Ramirez was born in St. Maarten and is a longtime resident of Cole Bay to parents of Haitian descent. She understands the plight of people who struggle daily to make ends meet and has worked for several years in the hospitality industry while raising three children. Candidate Abel-Ramirez believes these working-class people have been underrepresented for too long.
Ramirez's platform centers on three key priorities: economic growth, support for local businesses, and revitalizing the tourism industry. She recognizes that these issues are deeply interconnected, and addressing them can lead to a brighter future for the working man and woman in St. Maarten.
"Local community businesses are a crucial aspect of the tourism industry," Abel-Ramirez said. "When managed effectively, tourism can significantly benefit the local population, creating increased job opportunities and development."
Her vision is to foster an environment that encourages local businesses to thrive, ultimately boosting the island's economy. Abel-Ramirez understands that this requires forward-thinking policies and a commitment to innovation.
Abel-Ramirez said joining the United People's Party was a natural step in her political journey. She conducted extensive research on the various political parties in St. Maarten and found that the UP Party's values and dedication aligned closely with her views.
"I want to be a part of that positive change," explained Abel-Ramirez in her press release. "Joining the UP party allows me to actively engage in the political process and contribute to the betterment of our beloved St. Maarten."
Abel-Ramirez draws inspiration from the outstanding work of two prominent United People's Party figures. She said Member of Parliament MP Rolando Brison, known for his remarkable accomplishments as the hardest working legislator in Parliament and implementing 21 laws, finding solutions for some of the island's most complex challenges. Minister of Public Health, Social Development and Labour, the Honourable Omar Ottley, who has been a vocal advocate against the abuse of short-term labor contracts, has left a lasting impression on her.
She also commends MP Omar Ottley's impressive role as acting minister of Tourism, Economic Affairs, Transportation, and telecommunication TEATT while serving as VSA minister. Their commitment to bringing positive change to St. Maarten fuels Abel-Ramirez's determination to be a driving force for progress.
Abel-Ramirez says the electorate and the general public should view her entry into the political stage as a "call to action." "The future is not something we should passively wait for. We must actively create it through action and creativity in the present moment. Innovation and change are not distant goals but immediate opportunities," Abel-Ramirez stated.
She encourages residents "born here or born to be here to work together as a united community, to embrace opportunities, and to help shape a brighter tomorrow for St. Maarten."
With her proactive spirit and innovative vision, Juanly Abel Ramirez is poised to impact the future of St. Maarten significantly. Her candidacy represents a fresh, invigorating perspective that promises positive change and a better future.
PAID ADVERTISEMENT.