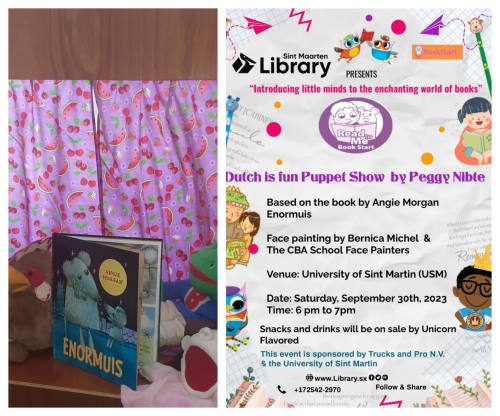 PHILIPSBURG:--- The Sint Maarten Library is excited to share the rescheduling of our "Read to Me" Dutch is Fun Puppet show for Saturday, September 30, 2023, at the Sint Martin University, from 6 pm to 7 pm.
Peggy Nibte, a performer and a great storyteller, will serve as the puppeteer for the Dutch Is Fun Puppet Show.
Ms. Nibte was born in Paramaribo, Suriname, into a family of seven. She is the youngest of four girls and three boys. Her mother worked as a teacher, while her father served as a police officer. All of her brothers pursued careers in law enforcement, and her sisters all became lawyers.
Peggy Nibte became a teacher not by choice. However, she has dedicated over 29 years to the teaching profession and has been teaching at Sint Maarten since 2010. Her teaching journey has taken her from Marie Laurence to St. Dominic, Asha Stevens Hillside Christian Campus, and now the Helmich Snijder Campus. Peggy Nibte is also the proud mother of two children, a son and a daughter.
The Dutch is Fun Puppet Show is a component of the Babies and Toddlers campaign for 2023, and it is also a part of the international celebration for "September Literacy Month".
Puppet shows are considered beneficial for early development due to their numerous cognitive, emotional, and social benefits for young children. All children aged 2 to 8 and their parents are invited at the University of Sint Maarten to come out and not only enjoy a fun experience but also get excellent moral values from the story. Peggy Nibte via her storytelling session will guide the youngsters who will learn to apply positive attitudes reflected by the story and use them for their identity.
We also encourage you to bring a thick blanket with you for this outdoor activity. You can sit in the garden and the "Dutch is Fun" Puppet Show – "Enormuis / Enormouse"
The puppet show is based on the story written by Angie Morgan "Enormouse". The Story will be presented in both languages of instruction in Sint Maarten. It is a charming and reassuring tale about friendship, staying true to oneself, and discovering where you truly belong- even if you may appear a bit different.
In a world filled with ever-evolving challenges and the constant pursuit of personal growth, "Enormouse" was selected to provide children with the tools they need to self-reflect, strengthen their self-esteem, celebrate their differences, and encourage their unwavering confidence. This empowering title is not just a story, but also a transformative guide on a journey towards self-discovery and empowerment.
In addition, part of the Dutch is Fun Puppet Show on Saturday, September 30, 2023, includes free face painting by Bernica Michel and Charlotte Brookson after the show. Snacks and drinks are available for purchase from Unicorn Flavored Popcorn Treats & More.
The University of Sint Maarten and Trucks Pro N.V. are the sponsors of this event.