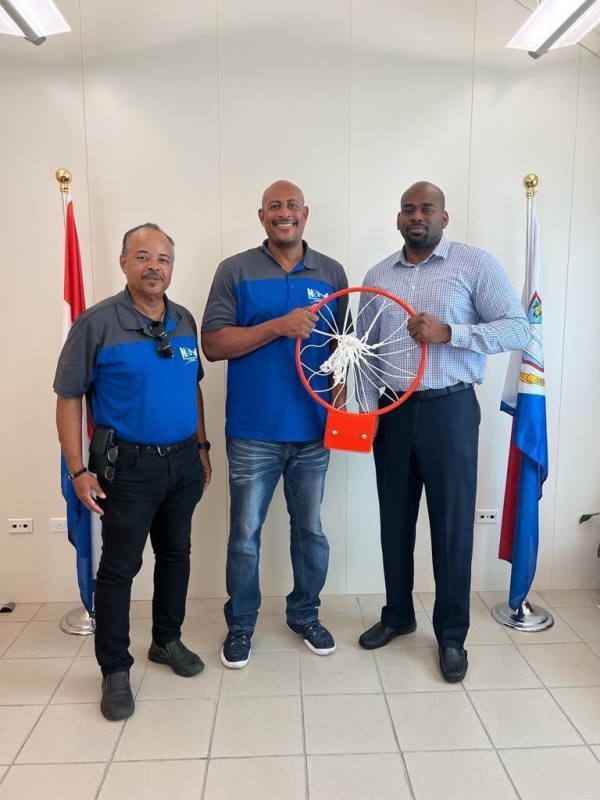 PHILIPSBURG:--- On Thursday, September 21st, the Minister of Public Health, Social Development and Labor, Omar Ottley, the National Sports Institute (NSI), and Community Development, Family & Humanitarian Affairs (CDFHA), proudly announced the next phase to their island-wide community basketball court enhancement project.
The purpose of the project is to repair and restore the backboards and basketball nets on the outdoor basketball courts in Dutch St. Maarten communities. Areas such as St. Peters, Middle Region, Dutch Quarter, Melford Hazel, Simpson Bay, Belvedere, and Cay Bay will benefit from this motive.
The initiation of this project stems from a request made by the community members of Belvedere to repair their outdoor basketball court backboards. However, after the discussions with the National Sports Institute (NSI), it was determined that addressing the needs of multiple communities would be a more comprehensive and impactful approach. Consequently, the project became much more extensive by reflecting a broader commitment to enhancing sports facilities across the Dutch side of the island.
"The decision to undertake this project is rooted in its significant social implications." Said Minister Ottley. NSI, CDFHA division head Mrs. Chantale George Groeneveldt, and Minister Ottley recognize the vital role that outdoor basketball courts play in fostering community engagement, promoting physical activity, and providing a safe and constructive recreational space for residents.
"By restoring and improving these facilities, we aim to enhance the overall well-being and quality of life of our citizens." Said Ottley