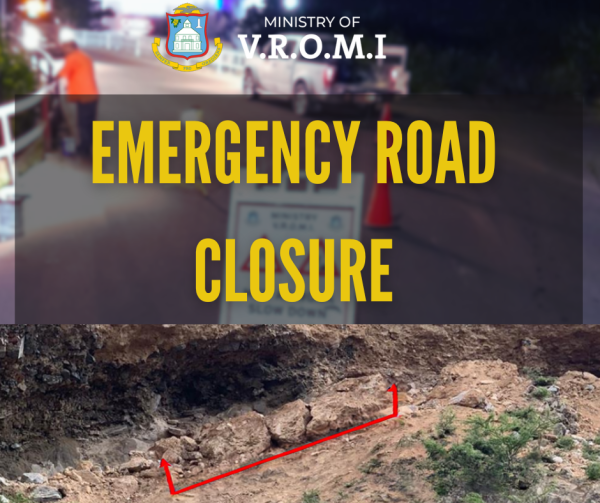 PHILIPSBURG:--- The Ministry of VROMI (Ministry of Public Housing, Spatial Planning, Environment and Infrastructure) is hereby announcing an emergency road closure for the removal of hazardous boulders on the hillside at the Juancho Yrausquin Boulevard, Point Blanche, directly across the A. C. Wathey Cruise and Cargo Facilities.
Various scenarios were carefully evaluated, and the chosen method involves the use of specialized equipment and personnel to ensure the safe and efficient resolution of the situation. After thorough consideration of the location of the boulders, it has been unanimously agreed by the Ministry and the Fire Department to conduct the operations of the removal of the rocks as preventative measures.
Key Details of the Road Closure:
Date and Time: The boulder removal operation is scheduled to take place on Thursday, November 16th, 2023, starting at 10:00 PM until 1:00 AM.
Location: The road closure will affect Juancho Yrausquin Boulevard, across the Harbor, Point Blanche, during the specified timeframe.
Emergency Access: Emergency vehicles will have continued access to Point Blanche through the port, ensuring swift response capabilities.
We want to extend our sincere gratitude to the Port of Sint Maarten's Management for their invaluable
cooperation in facilitating the smooth execution of this essential operation.
The Ministry of VROMI appreciates the understanding and cooperation of the community during this essential operation. We remain committed to maintaining the safety and well-being of our residents.
For further inquiries and information related to this road closure and other infrastructure projects, please contact VROMI's Infrastructure Department at VROMI This email address is being protected from spambots. You need JavaScript enabled to view it..