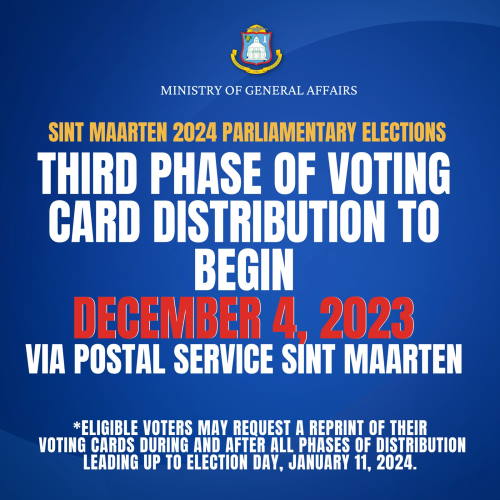 PHILIPSBURG:--- The Civil Registry Department has announced the third phase of distributing voting cards for the January 11, 2024, Parliamentary Elections. Registered voters who do not take advantage of the early voting card distributions at the Government Administration Building can receive the cards by mail via Postal Services Sint Maarten N.V. (PSS) from December 4, 2023.
The Civil Registry is allowing eligible voters to collect their voting cards at the Government Administration Building, from November 25 through December 1, ahead of the postal distribution service.
In the past, many voting cards have been returned by PSS, following information from homeowners that registered voters no longer reside at the addresses registered in the Civil Registry. The option to retrieve voting cards earlier alleviates returns and double printing of the voting cards. It is important to note that voters may request a reprint of their voting cards during and after all phases of the distribution dates leading up to Election Day.
"The intention was not to create cause for concern but to inform registered voters of the available option. This is especially crucial for those who have recently moved and have not had a chance to update their home addresses in the Civil Registry," stated Prime Minister and Minister of General Affairs Silveria Jacobs, who hopes voters take advantage of the early collection times, which are scheduled outside of regular business hours to eliminate lines at the Government Administration Building.
The Ministry of General Affairs and the Central Voting Bureau encourage all voters to stay informed about the developing preparations for Election Day. Further details regarding polling station locations, voting hours, and public order protocols will be communicated in subsequent releases.