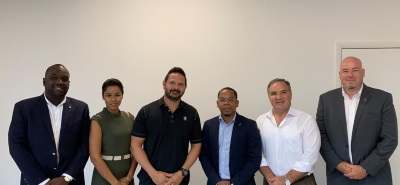 PHILIPSBURG:--- Alexander Gumbs, Business Development & Marketing Manager at Port St. Maarten, will be departing the company on July 1st, 2019 after over seven years as an employee, to take up a new position within the cruise line industry.
Lela Simmonds from a succession planning standpoint will be transitioning to the Business Development & Marketing Unit assuming this role in the Commercial Department with the support of Senior Port St. Maarten Manager Roger Lawrence. The Commercial Department maintains a close working relationship with the cruise industry which was intensified after September 2017 and nurtured further within the past 21-months with the cruise lines and local stakeholders.
Gumbs joined Port St. Maarten as an employee in 2012 as Business Development Officer within the Commercial Department. Prior to that, in 2010 Alexander did his internship at the port and his thesis in 2011.
"My experience at Port St. Maarten was nothing shy of incredible. I got the opportunity to meet great people all along the way and with them in facilitating the growth of cruise tourism.
"I would like to thank management past and current for their guidance and all their collaborative efforts along with industry stakeholders locally and regionally who have contributed in one way or the other to my professional experience and growth over the years," Alexander Gumbs said.
After the passing of the September 2017 hurricanes, Gumbs was catapulted to the forefront to work with cruise lines and other stakeholders keeping them abreast of the steps being taken at that time to re-open the cruise sector business which was successfully accomplished in early December 2017 when the first cruise ships returned to the destination.
Cruise tourism continued to recover throughout 2018 and forecasts for 2019 also shows that the country's cruise sector will continue to grow.