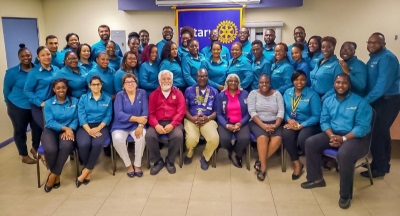 COLE BAY:--- The Rotary Club of St. Martin Sunset welcomed District Governor Patrick Adizua and his wife, Lesline Adizua, to their general meeting on Monday 10, 2018. This was the first time that the club received such an honorable visit since being chartered on July 30, 2018. One of the District Governor's core responsibilities is to visit all clubs in the district to provide support, deliver the RI President's message, and present an update on district goals.
During the meeting, the club's committee chairs discussed upcoming projects and activities with the members. President of the Rotary Club of St. Martin Sunset, Jaida Nisbett, reflected on the journey of the club, it's membership and projects that were carried out since being chartered. President Jaida also took advantage of the opportunity to discuss the goals and future plans of the club.
DG Patrick delivered a profound message to the members, highlighting the importance of friendship and partnership. He commended the club for their persistence, gaining a strong membership base of 41 members and executing effective projects. DG Patrick expressed his excitement for being a part of the club's charter ceremony and installation of the charter president, board and members of the club. DG Patrick also presented Rotary International and District 7020 theme pins to all members. Thanks to Sint Maarten Guavaberry and Laser It, President Jaida presented DG Patrick and Lesline Adizua with a beautiful customized wooden cutout of St. Martin and a customized bottle on Guavaberry rum on behalf of the club.
Amongst invited guests were District Governor Nominee Designate, Louis Wever, his wife Amanda Wever and Assistant Governor, Marcellia Henry. The night came to an end with fellowship and the opportunity for club members to capture memorable moments with DG Patrick.
The members of the Rotary Club of St. Martin Sunset would like to thank DG Patrick and his wife for their visit to the club and look forward to the rest of the Rotary year 2018-2019 under their leadership.