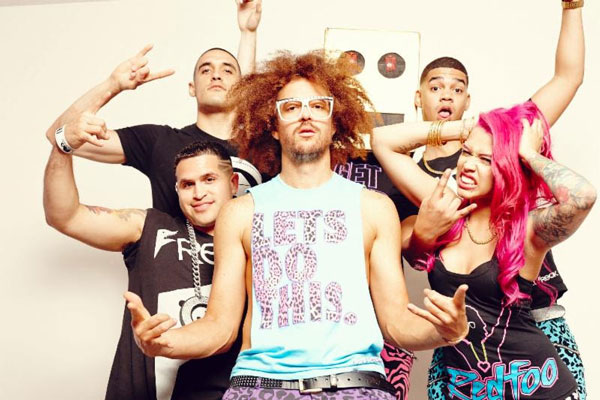 PHILIPSBURG:--- Organizers for the 34th Annual St. Maarten Heineken Regatta have worked tirelessly to create the perfect formula for three nights of island fun, featuring a performance by Kes during the Caribbean Jam night on March 8, followed by performances from St. Maarten's own Orange Grove and RedFoo and the Party Rock Crew (LMFAO) during the Legendary Party on Sunday, March 9, 2014.
Kes, more commonly referred to as Kes The Band or KTB, first performed at the St. Maarten Heineken Regatta in 2009 and has since been making waves in the music industry with performances throughout the Caribbean, U.S., Canada and Europe. Additionally, Kes has been hitting the world's main stage, opening for acts such as Rihanna, Sean Paul, John Legend, Maroon 5 and Evanescence. The band's musical style has been described as island or Caribbean pop, consisting largely of Soca with influences from both Calypso and Reggae styles. The band is comprised of three brothers Kees, Hans and Jon Dieffenthaller and friend Riad Boochoon and is known for vigorous performances Regatta fans are sure to enjoy.
Hailing from St. Maarten, Orange Grove (OG) is sure to bring party goers to their feet before LMFAO takes the stage. Since their last Regatta performance, Orange Grove has been hitting the studio in an effort to make the coming year one of their best musical seasons yet. Working with one of the most famous DJ/producers in the world, Bob Sinclair, tracks from Orange Grove's newest album played at Pacha nightclub in Ibiza and received rave reviews. During their Legendary Party performance on March 9, Orange Grove will premier the first ever on-stage release of the remix "Ready For It," giving the St. Maarten Heineken Regatta audience a sneak peak before its worldwide release. New to the Regatta stage will be bassist Daniele Labatte, the newest band member to Orange Grove who has added an international flair to the mix.
The Regatta concerts culminate on Sunday, March 9 with a performance by headliners RedFoo and The Party Rock Crew (LMFAO) on Kim Sha beach. Achieving fame for their hit songs "Party Rock Anthem," "Sexy and I Know It" and "Shots," this performance is sure to have Regatta attendees dancing the night away. LMFAO will arrive to St. Maarten after spending time on their world tour which includes stops in Paris, Australia, Turkey, China, Japan, Las Vegas and Los Angeles.
The 34th edition of the Caribbean's biggest Regatta will feature four nights of parties starting on Thursday, March 6 with the Dance Fever Party; Friday, March 7with the Rock and Reggae event; Saturday, March 8 with the Caribbean Jam and finally the Legendary Party on Sunday, March 9.
The St. Maarten Heineken Regatta is an annual competition that has become a world-wide and one-of-a-kind sailing event with exciting entertainment, musical performances and parties that have attracted thousands of sailors and enthusiasts to the island over the years. The actual competition consists of round-the-buoys contests and point-to-point destination races against the backdrop of St. Maarten's breathtaking coastal views.
St. Maarten has it all, with activities to please all types of vacation personalities. From cafés and sizzling beachside barbecues; boutique hotels and high-rise resorts and some of the best shopping and nightlife in the Caribbean, there is truly something for everyone.
For more information on St. Maarten visit the official site of the St. Maarten Tourist Bureau at www.VacationStMaarten.com.