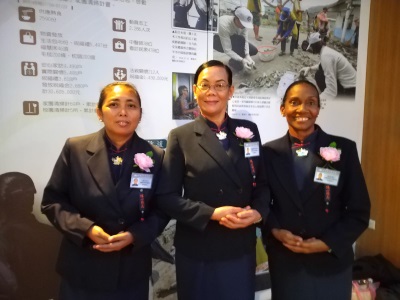 Three local volunteers certified as commissioners
PHILIPSBURG:--- Tzu Chi Founder Master Cheng Yen said the international organization is currently planning more relief for St. Maarten to help the island in its recovery process from hurricanes Irma and Maria, which battered the island as a powerful storm in September 2017.
She made the comments in a recent broadcast in which she reflected on the devastation the hurricanes caused as well as on a Commissioners Training Camp held in Taiwan, in which she certified a number of volunteers around the world as commissioners including three from St. Maarten.
"With natural disasters happening so frequently we cannot wait idly," Master Cheng Yen said in her broadcast. "Look at the series of hurricanes last year which brought devastation to many islands including St. Maarten. Their recovery is slow, which is why people around the world need to help them with love. Tzu Chi is planning how to bring relief to St. Maarten so that they can have more assistance in their recovery. This is what we are currently working on."
Tzu Chi international has already sent six containers of love rice to St. Maarten, four of which were sent after the 2017 hurricanes to help alleviate the burdens on households still struggling in the wake of the devastating storms. The latest container was received on November 15. Tzu Ci international also assisted with other relief efforts.
The Tzu Chi founder said it was not easy to distribute rice on the island immediately after the hurricanes. To ensure that many households were helped, the local arm of the foundation was initially distributing three cups of rice to each family in need. "Our volunteer there (in St. Maarten), Sandra Cheung, distributed three cups of rice. Because of the limited resources, each person could only have received three cups of rice. When giving out the three cups of rice, volunteers told the recipients to say good words when they received the first cup, do good deeds for the second cup and harbor good thoughts the third cup. They used this method to guide the people to head in the right direction, thus one day, St. Maarten will turn around, recover from the disaster and become prosperous again. Let us give them our well wishes," she said.
The Tzu Chi founder made a passionate call for persons to join the effort to help others. She said there are volunteers from around the world who have known Tzu Chi since kindergarten and have served as young volunteers and who continue to serve Tzu Chi today. "They have been brought up with Tzu Chi's values from young. They are developing wisdom and they walk the Buddha path of serving the world."
Although inspiring people to donate is hard, she added, volunteers have overcome such difficulties in order to "purify peoples' hearts. You have to reach out and inspire people to give. What we want is not the donation. The donation is just for individuals to know about Tzu Chi providing them an opportunity to see that even spare change can help people in hardships around the world. Before they know about Tzu Chi, we don't have a way to reach them. When we inspire people to donate, we want to also inspire them to give with love and to purify their hearts."
In the meantime, the three St. Maarten volunteers who were certified as Commissioners in Taiwan on November 21, are honored and grateful to have been certified. "After Irma, I lost my job and I lost my house, but I never lost hope. Master, I thank you for all your support to St. Maarten. I've been blessed to be sanctified by you... I thank you for all that you have done in the world and I promise you, myself and the audience that I will spread your teaching and Buddha's teaching to the best of ability," St. Maarten volunteer Angela Heyliger said during the certification ceremony in Taiwan. She was certified along with St. Maarten volunteers, Saskia Amatdawoed and Jane Sanchez.
The three along with Tzu Chi St. Maarten Commissioner Sandra Cheung and volunteers Regina Janga and Chino Luisa visited Taiwan together and also participated in the Commissioners Training Camp, which preceded the certification ceremony. The group returned to St. Maarten on Sunday, November 25.
During the visit, the group expressed their gratitude to Master Cheng Yen for the three months of free bread, food and stationary supplies that were donated to persons in need on the island after the monster storm last year and for her continuous support with the container of zinc sheets that is currently on its way to St. Maarten to assist persons who are still without a roof more than a year after the storm.