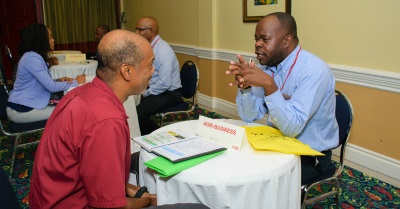 Share innovative ideas, receive free business mentoring, and enter to win cash prizes of up to $5,000.00
PHILIPSBURG:--- After the 2017 storms, small businesses are still struggling to recover. The global humanitarian organization Mercy Corps and Bacardi, the largest privately held spirits company in the world, are launching the Caribbean Innovation Challenge 2019, a competition to award business innovation and strengthen businesses on the islands, entrepreneurs can win up to $5,000 USD.

The Caribbean Innovation Challenge 2019 will be leveraged in partnership with The P award 15 local entrepreneurs with innovative ideas for products, services or processes that will contribute to the economic development of the territory. Small businesses on Sint Maarten are a key engine of job creation and need tools to recover, grow and become more resilient to future crises.
To participate in the contest, the entrepreneur must have an active business that is registered with the Chamber of Commerce, be of legal age, and live in the territory. A group of local judges will select the best ideas and award them with up to $5,000 USD. Participants can visit the Challenge website https://www.micromentor.org/blog/cic2019/ to submit their application. The contest will be open until September 15, 2019.
To strengthen their businesses and increase their chances of winning, entrepreneurs will have access to free mentoring through MicroMentor, a social platform that enables the world's largest community of purpose-driven entrepreneurs and business mentors to create powerful connections, solve problems, and build successful businesses together. MicroMentor's global community is formed of more than 100,000 users around the world and has created nearly 25,000 jobs in 198 countries.
The Caribbean Innovation Challenge 2019 is one of the many programs that Mercy Corps has launched, thanks to the support of partners like Bacardi, designed to support economic recovery on islands impacted by the 2017 storms.