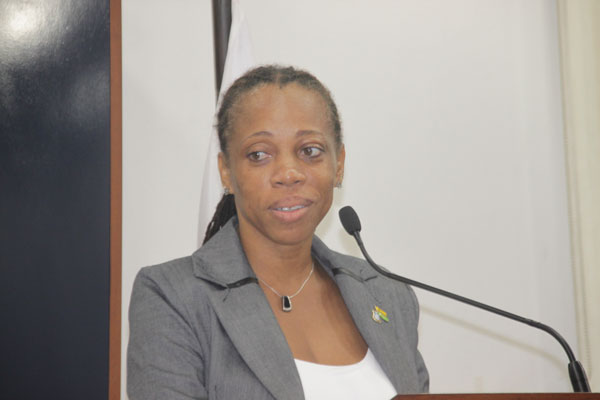 Philipsburg:--- Minister of education, sports, youth and culture affairs Rhoda Arrindell told reporters on Wednesday that there is a new Sherriff in town and her government has not seen any plans for the much talked about race track and cricket field. Minister Arrindell admitted she is new in the process and is still busy familiarizing herself with the various departments within her portfolios.
While Minister Arrindell was not able to pinpoint her priorities in her portfolios she made clear when asked if there would be any continuity with regards of the race track and cricket field that was initiated by former commissioner of sports Frans Richardson. Minister Arrindell responded sarcastically, she laughed and asked "what race track and cricket field? I consider this to be a brand new game with a new sheriff in town."
She further said that there is a new Sheriff in town and there is no race track or cricket field in their plans for sports. Minister Arrindell said that she has her own vision for sports and how it should be developed on St. Maarten, while not completely ruling out other people's ideas and projects. "I have my own vision for sports and not leaving it out of the school curriculum. However, I would prefer to start from scratch since it's a brand new situation, it's a new government and it's not a department." The Minister said while she has seen other projects she did not see any presentation of a race track or cricket field.
Right now we have been receiving correspondence from Curacao regarding the Kingdom Games and the Netherlands Antilles Olympic committee that must be dealt with within short.
Asked about her plans for education especially her intention to have the language of instruction as English, Minister Arrindell said the language of instruction is no longer a discussion. "We already established the language of instruction to be English as everyone knows my position on this matter. The idea is to get this written into law and have the other subjects such as Dutch and French taken as compulsory subjects. The Minister said that discussion is long gone and they are now looking at how to do this well. As for compulsory education she said it started in 2008 as a phasing in process. However, she made clear that St. Maarten will comply with all its obligations when it comes to its children. "Right now we are looking to see what would be the most responsible way to have this totally implemented. All children on St. Maarten are our children and we have to do it well since we do not want to short change our youths for the sake of dropping them in a classroom." The Minister said all children deserve the same level and quality of education and as such her Ministry is looking at how to incorporate the other schools into the regular school system.