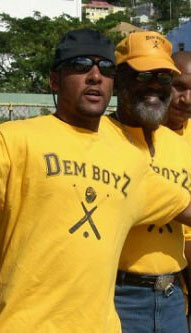 Philipsburg:--- Chief Prosecutor Hans Mos is calling on eye witnesses of the brutal murder of Amador Jones on Saturday night to contact the police so that the killer could be arrested. Mos said that persons on the scene of the crime Saturday night warned police that if they don't arrest the killer they would find him themselves. Mos said that the only way police will be able to arrest the killer/killers and bring them to justice is if those persons who saw what happened talks to the police. The police will be able to solve this case if the information is provided to them. "Each time we call on the public for information no one wants to talk", Mos said. Amador Jones, a well known St. Maartener was gunned down Saturday night at a bar on L.B Scot Road, opposite Jose Lake Ball Park. Sources say Jones was shot four to five times, he died of his injuries at the St. Maarten Medical Center. Jones is the fifth person that was killed this year.
A resident of the area said they heard at least six gun shots around 11pm Saturday night. The gun shots, the resident said was so loud that it woke up people who were already sleeping.
SMN News learnt that a large amount of people who knows the victim and families of the victim rushed to the St. Maarten Medical Center and waited until he died. Officers who worked Saturday night were forced to remain at the hospital until the early hours of Sunday morning as the crowd was getting out of control.
Amador Jones is the son of Elton Jones, advisor to the Democratic Party and Jackie Labega. Both families as well as the victim are well known to the St. Maarten community.
In the meantime, the RST and local detectives working on several murder and robbery cases managed to solve those cases. SMN News has been reliably informed that two of five suspects arrested last week are responsible for a string of murders and robberies that were committed on the island earlier this year.
Police arrested some suspects in a bar on AT Illidge Road and in Dutch Quarter; two of the five suspects were released from pre-trail detention while the others remained behind bars.
The Police and Public Prosecutor are expected to hold a press conference on Monday afternoon where they will break their silence on the ongoing investigations that have been taking place.