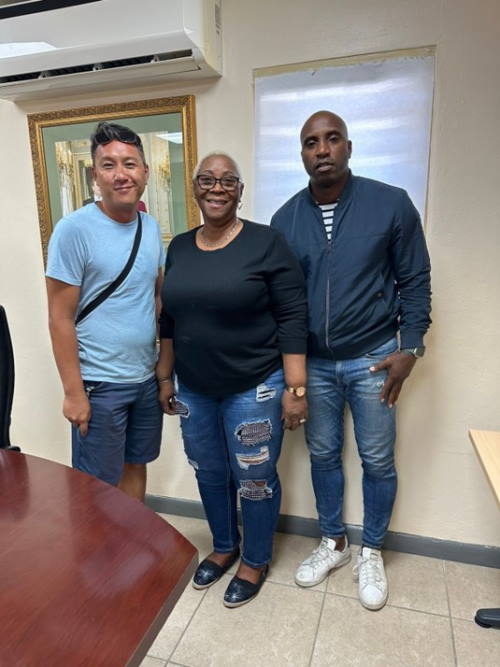 PHILIPSBURG:--- In a concerted effort to alter the global perception of St. Maarten's status in combating Human Trafficking and Human Smuggling, The National Reporting Center (NRC), falling under the Ministry of Justice, continues its series of introductory sessions with various entities and associations to launch informative campaigns to raise awareness against Human Trafficking and Smuggling.
The St. Maarten Chinese Community Foundation (SCCF) is considered a key stakeholder in the NRC combatting strategy, and this invitation to meet and discuss these issues in an open and overwhelmingly positive manner. They expressed sincere interest and gratitude for the NRC outreach and have eagerly embraced the opportunity for collaboration. The NRC shared the importance of raising Sint Maarten's Trafficking in Persons Tier III ranking, and how this status affects our community.
The SCCF emphasized their commitment to demonstrate an unwavering stance against Human Smuggling and Trafficking. They pledged to make their commitment public, actively promoting the fight against these grave injustices within their community and the wider public.
During the discussions, the SCCF raised concerns regarding the challenges faced with regulating the status of their employees and shared the differences between their work culture from traditional Western culture. Notwithstanding the abovementioned, these concerns reflect an interest of the SCCF to enhance transparency and the ease of doing business on the island.
The NRC and the SCCF are now poised to work closely together in raising awareness, improving accessibility, upholding human rights, and jointly combatting the crimes of human trafficking and human smuggling. This partnership signifies a significant step forward in addressing these critical issues on St. Maarten. Together, they aim to make a lasting impact and create a safer, more inclusive environment for all.