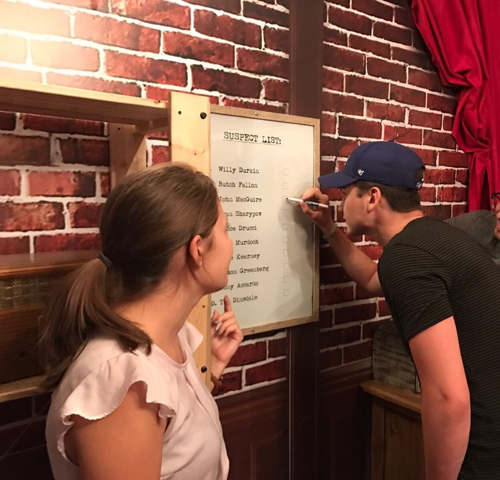 PHILIPSBURG:--- This month, construction has started on the first Escape Room in the Caribbean. This was announced by its founding partners Caribbean Brewing Company B.V. of St Maarten and Gam Masters from Canada.
Escape Rooms are a rapidly expanding phenomenon within the entertainment industry. Themed rooms are designed professionally and provide a group puzzle to solve. According to the research bureau Analytical Research Cognizance (ARC), the Escape Room industry was valued at $8.6 billion worldwide and is to grow to over $22 billion in 2025.
Popular moments to embark on the group challenges are the beginning of nights out with friends, family day trips, team building, and company outings, and stag and hen parties.
The one to open in Philipsburg will be the first of its kind in the Caribbean. "Blackbeard's Brig" (1716 AD Pirate's Adventure) is expected to be the main attraction, connecting the themed room with the expanding St Maarten export beer of Caribbean Brewing Company. In addition to this joint venture with Canadian specialists GameMasters, three other Escape Rooms are being developed at the same location.
Laura Hawkins of Canadian partner GameMasters is elated about opening its first Escape Rooms in the Caribbean region after designing and executing 90 Editions in North America. "We are happy to be part of this landmark development of bringing this popular concept to St Maarten and the region, contributing to a great destination".
Director Sunil Vaswani of Caribbean Brewing Company B.V. assesses the first room to open early September: "One of the key attracting factors of destination St Maarten is its wide variety of activities. We are convinced this attraction will add to this offer - more specifically, to provide a whole new day - and more importantly, evening - an activity to our capital Philipsburg and its famed Boardwalk".
The main reception to the four rooms will be the Dutch Blonde Beach Bar on the Boardwalk, whereas a second entry will be put in place for tourists coming from the Frontstreet Wathey Square area.
People interested in both the binational project and taking part when open can contact the Dutch Blonde Beach Bar.