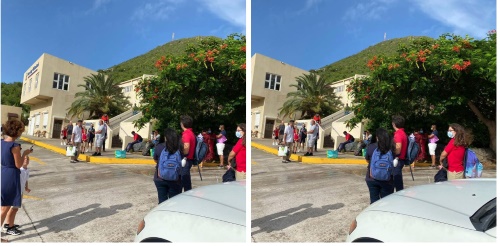 PHILIPSBURG:--- Management of Learning Unlimited has refused to follow the guidelines set down by the government when it comes to distance learning.
On Tuesday the Minister of VSA Richard Panneflek and Minister of Education Rodolphe Samuel sent a letter to Learning Unlimited and Caribbean International Academy advising them that they too have to follow the restrictions set down by government even though they are a private institution. Despite the rise in COVID-19 cases, a commotion broke out at the Learning Unlimited on Wednesday morning while Police and the Minister of VSA Richard Panneflek were on site trying to get management of the school to comply with the restrictions laid down by the government and to proceed by distant learning.
Minister of TEATT Ludmilla de Weever said she also intervened and spoke to management of LU but hoped to continue that discussion later today.
Information circulating on St. Maarten states that a 13-year-old has been hospitalized with COVID-19 effects, asked about that at the Council of Minister's press conference the Minister of Education Rodolphe Samuel said there have been rumors but he does not have any information on the case. In the meantime, Deputy Prime Minister Jurendy Doran said he could not comment on such sensitive matter on the press conference platform.
SMN News will continue to monitor the situation at these private institutions and update it later today.